How to Make a Fire with Birch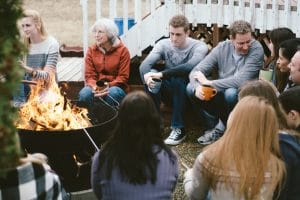 Birch firewood makes a great fire – whether it's a campfire, woodstove, or backyard firepit. The wood burns clean and hot.
Getting a birch fire going is pretty simple. Follow these instructions to be warm and cozy in no time.
Place some tinder down first (wood shavings, dry bark, dry leaves, etc…). Then put some kindling, which are generally twigs or sticks about the width of a pencil, in a teepee fashion around the tinder.
After that, with your firewood, find the smallest pieces about the width of your wrist, and make a second teepee around the kindling teepee.
Now you're ready to light the fire! Place a match to light up the tinder and once the fire has consumed the second teepee you should be able to just add the regular firewood logs as the fire will be hot enough to burn those well.
Burning Tips
After your fire has been burning for a while some hot coals will emerge. Now is a great time to make some campfire snacks on these hot coals (smores, popcorn, BBQ fish, etc…).
If you want to keep the fire going it is a good idea to gently stir the hot coals with a rake or fireplace utensil before adding more logs. This helps put a bit more oxygen into the fire and spread out the coals so the additional logs will catch fire more quickly.
Best Campfire Snacks
Good campfire snacks are a must. Here is a list a few of the most popular… But your own imagination can come up with more!
Roasted marshmallows
Smores (Graham crackers, marshmallow, and chocolate melted like a sandwich in a foil pack)
Roasted hot dogs, smokies, or sausage
Popcorn
BBQ fish or steak kabobs